Why is Narendra Modi so popular?
Author: Thamanna Abdul Latheef
26 May 2018
Narendra Modi, described as a controversial leader due to his affiliation with the Hindu-nationalist BJP and his association with the 2002 riots in Gujarat, he is one of the most popular leaders across the globe at the same time. Indian politics has already witnessed several of leaders but Prime Minister Modi continues to win hearts by his charismatic leadership, humble background, and exceptional communication skills. Despite the hassle that was created by demonetization, his controversial decision to ban high currency notes in November 2016, and GST, the powerful leader of BJP, Narendra Modi, doesn't seem to have lost his ground.
To be precise, Narendra Modi is followed by 18 million users on Twitter and he is the second most followed politician in the wide world. Why is Narendra Modi so popular among Indian as well as people across the world? let's have a look.
Modi's Popularity on Facebook
With 43.2 million likes on Modi's personal page, he beats USA President Donald Trump who has 23.1 Million likes on Facebook. A global study called 'World Leaders on Facebook' has said that Prime Minister Narendra Modi is the most 'liked' world leader on Facebook, much ahead of US President Donald Trump. When it comes to the interaction rate and the total number of interactions on Facebook, PM Modi ranks second.
Adding more to his popularity, the top five photos on Facebook shared by world leaders are all of Modi's. His photo at Odisha's Lingaraj Temple was the most popular photo shared by a world leader on Facebook in 2017. When it comes to most checked-in destination, PMO of Modi ranks 4th position. In the list of 'Peer Connection of World Leaders', which counts the pages of world leaders liked by their peers, Modi came 10th but none of the 9 pages ahead of him were the personal pages of any world leader, but they are the pages of their offices.
Narendra Modi and His popularity; Pew Survey
Pew survey is one of the organizations which conducts public opinion polling, demographic research, media content analysis, and other empirical social science research. In one of its polls conducted on Modi's popularity, it claims that the enthusiasm for the prime minister has not changed in the BJP-ruled northern states like Haryana, Uttar Pradesh and Rajasthan, while Modi's popularity has been rising in southern India. At least nine-in-ten Indians in the southern states of Andhra Pradesh, Karnataka, Tamil Nadu and Telangana strongly believe the prime minister is doing a good job.
The poll shows that there is still enormous faith that the people have in the prime minister's intent and his integrity.
Modi's Sarcastic Tweets on Rahul and the Congress
The research carried out by the University of Michigan's (UM) School of Information and published in the International Journal of Communication says political humour and sarcasm helped the Indian leader gain broad appeal and refashion his political style. The study was based on PM Modi's tweets – the Indian PM has more than 36 million followers on micro-blogging website Twitter. Researchers studies over 9,000 tweets sent out by PM Modi's Twitter handle over a six-year period.
Of the tweets which Modi sent out during 2014 General Elections, Modi called the main opposition party as corrupt and Gandhi, who too has a large number of followers on Twitter, as 'Rahul Baba' or 'Shahzada (prince)'. Modi's use of sarcasm helped continue with the long tradition of slogan humour during political rallies, the report says.
The university also said the Indian PM's tweets were coded into nine broad themes: Cricket, Rahul Gandhi, Corruption, Sarcasm, Hinduism, Foreign Affairs, Development, Entertainment, and Science and Technology. The coding showed the sarcastic tweets were closely concentrated around elections and campaigning cycles.
Through his social media posts, Modi carved out a more secular image of himself, using sarcasm - that helped shadow Hindutva-oriented content which proves to be traditionally more divisive than the Pan-Indian patriotic rhetoric of "India First". Although his government is blamed for causing various menace in the country like hiked fuel price, failure in creating jobs, rising intolerance and communal violence, agrarian crisis etc., his popularity remains unaffected.
Narendra Modi won the full majority in the Center and took BJP to the unprecedented heights and now, the Saffron party's emerged as the single largest party in India. All this took place in front of his eyes which clearly indicates his popularity and strong leadership. This being the very reason, nobody wants to remember what had happened in 2002. Modi has created a sense of purpose in the national mood and he has got the political narrative in his favour. And one must admit, 2019 general election is already in his sight.
By: Thamanna Abdul Latheef C
thamanna@molitics.in
MOLITICS SURVEY
महाराष्ट्र में अगर शिवसेना, एनसीपी और कांग्रेस के गठबंधन की सरकार बनती है तो क्या उसका हाल भी कर्नाटक जैसा होगा ?
Caricatures
See more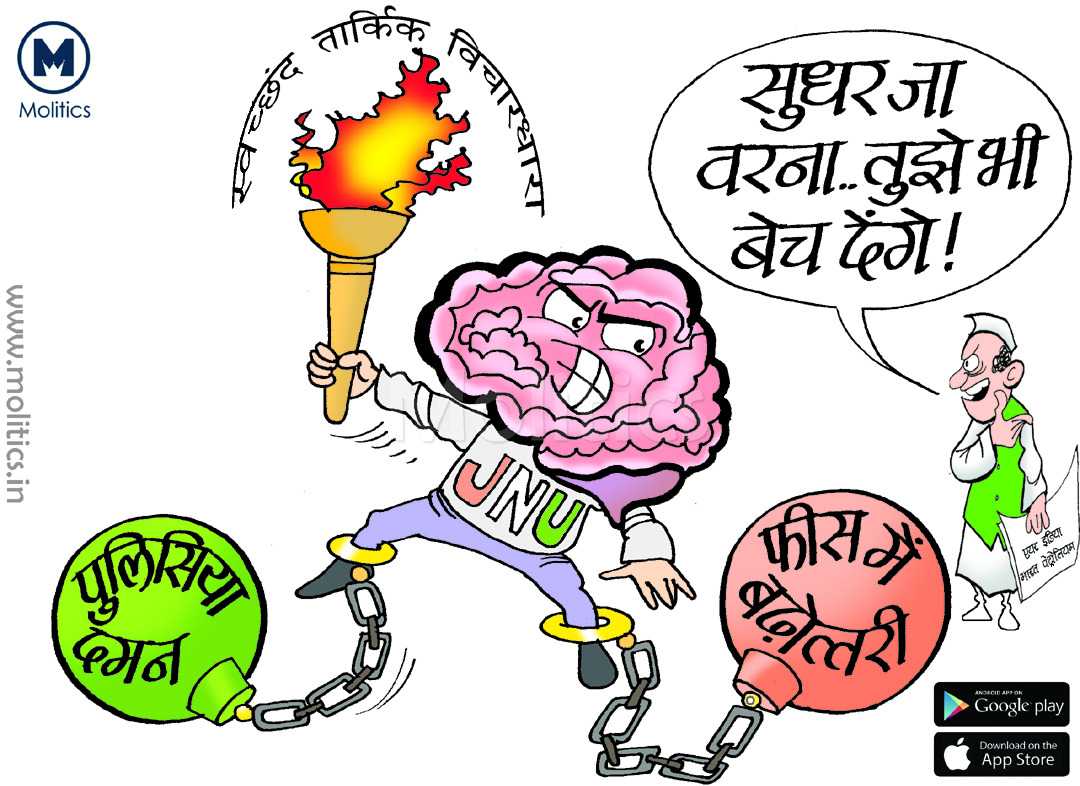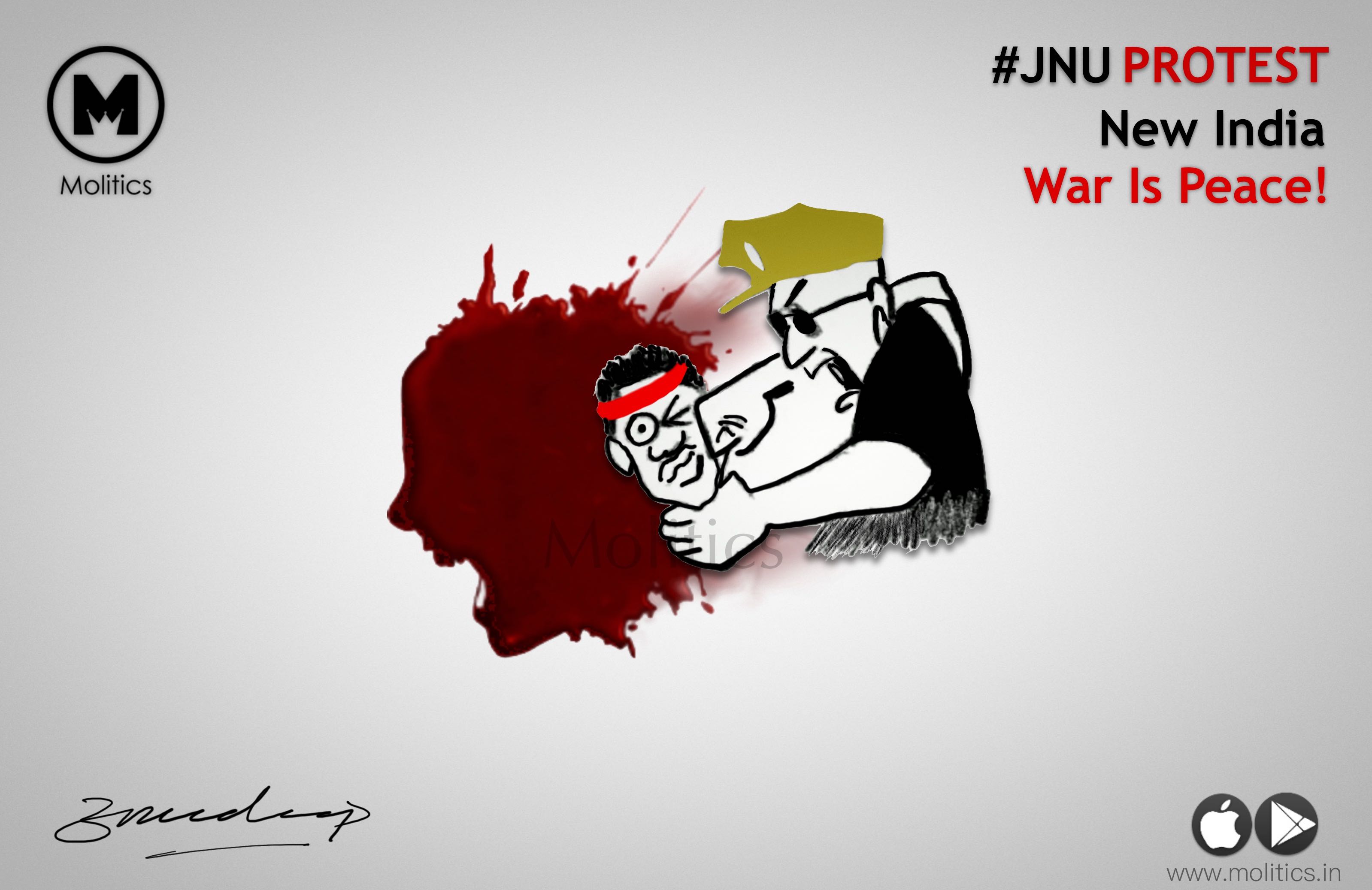 Public Issue
Raise Your Voice
Suffering From Problem In Your Area ? Now Its Time To Raise Your Voice And Make Everyone Know