Criminals in Indian Politics
Author: Thamanna Abdul Latheef
15 Dec 2019
"World's largest democracy", that is how we boast about our nation. Apparently, it is. But what happens when the so-called torchbearers of 'democracy' are themselves committing heinous crimes? Why do political parties favour those people with criminal records? Why let criminals be our lawmakers? Why is India not reacting to menace which is patently affecting our society?
The fourth estates, media, have become government's mouthpieces instead of being the watchmen of democracy that they are supposed to be. This is why India lost its faith in both the lawmakers and government.
Criminals in Politics
To be precise, 34% of winners in Lok Sabha 2014 have criminal charges against them. According to Association Of Democratic Reforms, 98 (35%) out of 281 winners analyzed from the BJP, 8 (18%) out of 44 winners from the Congress, 6 (16%) out of 37 winners from the AIADMK, 15 (83%) out of 18 winners from the Shiv Sena and 7 (21%) out of 34 winners from the AITC have been charged with criminal cases.
This analysis leads to an inference that, almost all parties in India, led by the ruling BJP and the main opposition Congress, field tainted candidates. Though some of the charges were of minor in nature or politically motivated, more than 20% of the new MPs faced serious charges such as attempted murder, assaulting public officials, and theft.
Why our political System is tainted?
The key factor motivating parties to choose candidates with grim criminal records boils down to just one thing, hard cash. The trend of promoting those individuals, who are capable of funding the party, even if many of these candidates have criminal records, hardly matter to these political parties in India. In fact, political parties also nominate candidates with criminal backgrounds to stand for election because simply put, they win.
Candidates with criminal records don't mind bragging about their criminal history and threaten the public anymore. There were so many instances in which politicians publicly threatened people and suppressed them with delinquency. Increasing information through media and rising awareness hasn't led to a shrinking of tainted candidates in fact; they utilized social media to propagate their agendas of intolerance.
Profession than social service!
It has become a lucrative career as an analysis shows that the average wealth of sitting legislators increased 222% during just one term in office. The officially declared average wealth of re-contesting candidates - including losers and winners - was Rs. 264,000 in 2004 and Rs. 618,000 in 2013, an increase of 134%.
Now, why do Indians vote for criminal candidates? Is it because many of the voters are illiterate, ignorant, or simply, ill-informed? The answer is no. Well-informed voters do support criminal candidates in constituencies where social divisions driven by caste and/or religion are sharp and the government is failing to carry out its functions - delivering services, dispensing justice, or providing security - in an impartial manner.
Clearly, crime and politics will remain inseparably intertwined as long as India doesn't make its election financing system transparent, parties become more democratic and the state begins to deliver ample services and justice. Before they overrule and twist justice for their whims and fancies, ensuring our rights aren't overlooked is the need of the hour. Before they tore us apart on several grounds, let us get united because our vote is our choice!
#RaiseYourVoiceAgainstDivisivePolitics
By: Thamanna Abdul Latheef C
thamanna@molitics.in
MOLITICS SURVEY
क्या सरकार को हैदराबाद गैंगरेप केस एनकाउंटर की जांच करानी चाहिए?
Caricatures
See more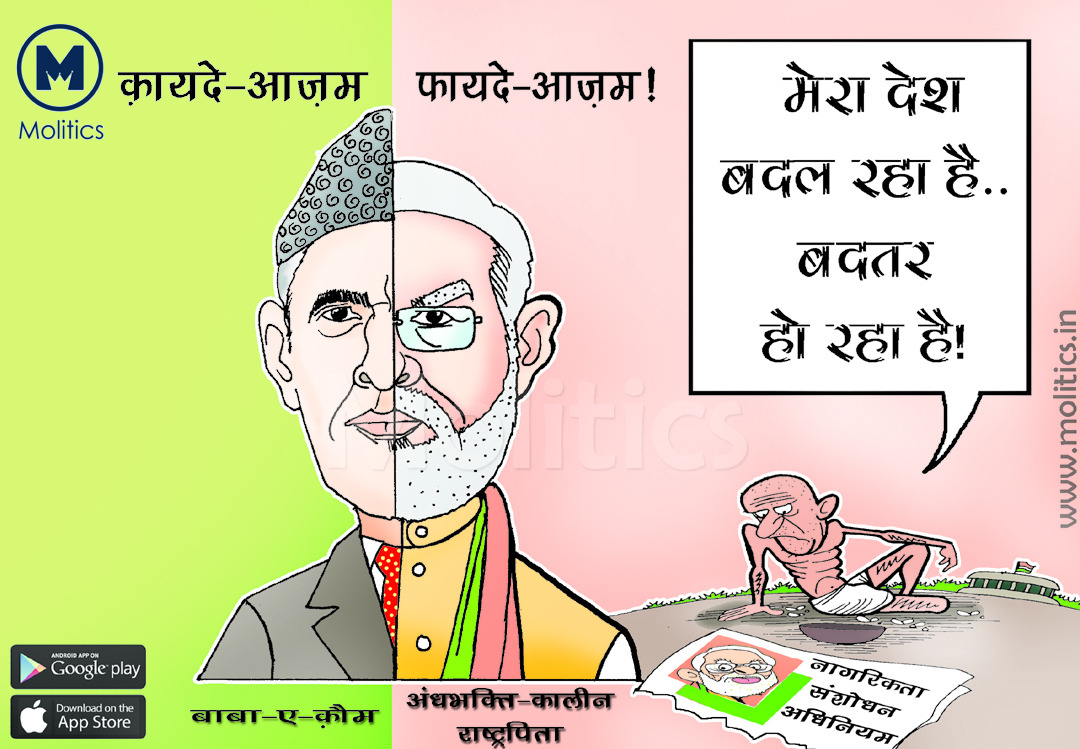 Public Issue
Raise Your Voice
Suffering From Problem In Your Area ? Now Its Time To Raise Your Voice And Make Everyone Know